We all know what a disaster fleas and ticks can be.  If not identified and treated promptly and properly could lead to infestation and serious health risks for your dog.  Fleas and ticks are tiny blood-sucking varmints that can really cause a lot of stress for you and your dog.
Health Risks
Not only are they extremely annoying but they also pose several threats to our dog's health and well being.  The most common is flea bite dermatitis which is a specific allergy to the flea.  This will lead to intense itching and scratching that will in turn cause sores on your dog and possibly lead to hair loss or infection.
Fleas can also cause an internal infection inside your dog.  Fleas carrying tapeworms can transfer them and they will grow once inside of your dog. Young or smaller animals are more prone to flea bite anemia which also can also come from fleas.  This happens when the flea infestation takes too much blood and leads to a decrease in the red blood cell count.
They also pose a health threat to not only our furry friends but to us humans as well.  Though dog and cat fleas normally don't use humans as hosts it is possible for one to jump onto and bite a human, and some people even have an allergy to them.  Certain diseases can be carried by fleas and then spread to humans, including plague and cat scratch fever.  We can also be allergic to these fleas when bitten causing inflammation to the site and itching.
Ticks have increased in number in recent years where I live.  It's hard to go anywhere where there's grass and not have to check for ticks on our whole family especially our dog.  Unlike fleas, ticks do attach themselves to humans and it's important to identify and remove them promptly.  Ticks can cause diseases and illnesses such as severe anemia, fatigue, flu-like symptoms, lameness, and even joint issues in both humans and dogs.  Lyme disease is probably the most common and can lead to years worth of joint pain for your dog if contracted.  It's important that you remove the tick properly with tweezers making sure you remove the mouthparts from the skin.
Treatment
Depending on where you live you may want to consider an ongoing treatment to use year-round for your pup.  Warmer climate states usually don't have cold enough seasons to cut down on the flea and tick activity.  You should always consult with your veterinarian first before beginning any new medication for your dog.  Flea and Tick treatment and prevention is vital for the health and well being of your pet.
There are many options for flea and tick treatment and prevention on the market today.  The most effective treatment is going to depend on your needs.  Your vet should be able to guide you in the right direction on which product he thinks is best, however, if you already have a treatment in mind buying it online will save you a lot of money and time.
It's important before you choose which brand of flea treatment to buy for your pet that you get the right product according to weight.  It can be fatal in animals to give a dose that is made for a larger size dog.  Read all packaging instructions and only use according to those, it's important.
Depending on the severity of the issue you may have to hire a professional to come into your home.  If you have an infestation already I suggest calling an exterminator to help you with the problem.  By the time you get all of the different products, you are going to have to buy to try and get rid of them yourself you can pay for the Orkin Man to spray your entire home.  However, that's not going to be effective in the prevention of a recurring infestation and it's important to keep an ongoing treatment applied to your pet.
Capstar is an oral tablet that effectively treats flea infestations in dogs and cats.  It will kill the adult fleas and can be given as often as once per day if reinfestation occurs.  Fast acting, starts working in as little as 30 minutes within treatment.  Safe for pregnant or nursing dogs and cats, and is also safe for puppies.
Capstar achieved greater than 90% effectiveness against adult fleas on dogs within 4. Capstar may be used together with other products, including heartworm preventives, corticosteroids, antibiotics, vaccines, de-worming medications, shampoos, and other flea products. Safe for puppies 2 pounds of body weight or greater and 4 weeks of age and older.
Comes in 2 dosage sizes one for under 25 pounds and one for over.
Can be purchased in a 6 count or 60 count quantity.
Active ingredient: Choose between 11.4 or 57.0 mg of Nitenpyram.
Seresto is a quick and easy alternative to monthly topicals, offering up to 8 months of protection in a collar.  Kills existing fleas and prevents tick infestations within 24 hours of treatment.  Afterward, reinfesting fleas are killed within 2 hours, while reinfesting ticks are killed within 6.
Kills fleas before they lay eggs, kills chewing lice for one month, and also aids in the treatment and control of Sarcoptic mange. Active ingredients are slowly and continuously released in low concentrations over the course of 8 months. Seresto is water-resistant and remains effective following a shampoo treatment, swimming or after exposure to rain or sunlight. However, it is not recommended to bathe your dog more than once per month as it might cut down on its effectiveness. It is non-greasy, odorless, and easy-to-use! And convenient, there is no need to remember monthly applications.
Collar has light reflectors for added visibility in the evening and at night.
Small collar is for dogs less than 18 pounds and is 15″ the large collar is for dogs over 18 pounds and is 27.5″. Can be used on puppies 7 weeks or older.
Active ingredients: Imidacloprid and Flumethrin
Advantage II has an added Insect Growth Regulator that kills fleas at all life stages, even the eggs, and larvae.  Fleas don't have to bite your dog to die they are killed through topical absorption.  Kills existing fleas on dogs within 12 hours, while reinfesting fleas are killed within 2 hours.  Protects further against flea infestation for up to 4 weeks.  It also kills lice for added parasite protection.  The waterproof formula targets flea infestations to interrupt the flea life cycle, providing multi-stage flea control.
Available in 3-10 pounds, 11-20 pounds, 21-55 pounds, and over 55 pounds. 4 or 6 counts.
Active Ingredients: Imidacloprid and Pyriproxyfen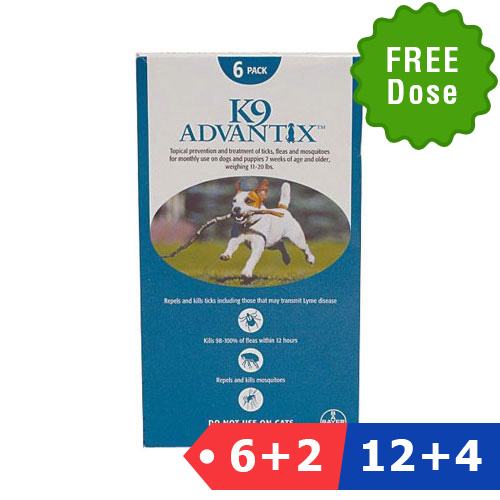 K9 Advantix II protects your dog from a variety of irritating pests.  It repels and kills fleas, ticks, mosquitoes, biting flies, and kills lice.  Fleas are killed through contact, so they don't have to bite to die.  Kills existing fleas within 12 hours of treatment.  Reinfesting fleas are killed within 2 hours and protection against further infestation for at least 4 weeks.  It kills flea life stages including eggs and larvae.  Can be used on puppies 7 weeks or older.
Available in 4-10 pounds, 11-20 pounds, 21-55 pounds, and over 55 pounds. 4 or 6 counts
Active Ingredients: Imidacloprid, Permethrin, and Pyriproxyfen
Frontline Plus for dogs and puppies provides long-lasting protection against fleas, ticks and chewing lice for up to 30 days.  It contains Fipronil and (S)-methoprene, two powerful ingredients for preventing infestations.  Has an Insect Growth Regulator to kills eggs and larvae interrupting the flea's life cycle.  Frontline Plus also kills deer ticks that carry Lyme disease, brown dog ticks, American ticks, and lone star ticks and chewing lice.  Helps in the control of sarcoptic mange infestations also.  It is waterproof and remains effective after bathing.  Safe for your breeding or nursing moms.  For use on puppies 8 weeks of age or older.
Available in up to 22 pounds, 23-44 pounds, 45-88 pounds, and 89-132 pounds, this may be the best for your large breed. 3 or 6 count packs.
Active Ingredients: Fipronil, and (S)-methoprene
Please note that I don't recomend these products unless your vet has approved them first. I believe you should only choose natural products when it comes to taking care of your dog, if at all possible. So unless you have a problem with fleas or ticks at your house I doubt it would be necessary to choose any of these products when you can try natural ones first.
These are in no particular order, it will be based on your individual preference which brand you choose.  I personally like the K9 Advantix because it repels mosquitoes that can carry the West Nile virus.  Depending on your area and your vet's recommendation you may use a different brand. To protect against illness it is recommended to keep your dog current on their flea and tick treatments.   Let me know in the comments which brand you like the best for your pet!