Subscription boxes are great for a little treat each month for you and your pet.  You save time by not having to look for treats and toys yourself.  You can spend the time you save with your family and furry friends.  There is a surprise aspect to receiving boxes in the mail as you never know exactly what you are going to get.  It's like a present that comes monthly, only it's for them.  You can treat your dog with a subscription box and spoil them even more.  I like the custom subscription boxes as you can tailor your box to your dog's specific likes and stay away from the dislikes.  I have searched the internet over to bring you guys the absolute best in custom subscription boxes for your dog.
#1 Subscription for Dogs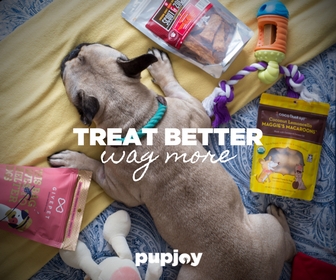 PupJoy is the #1 rated custom subscription boxes for dogs.  Every purchase helps a shelter dog in need.  You can feel good about treating your dog!  Inside the box you will find limited ingredient treats, chews that are all natural, and unique high quality toys.   Choose from a basic box or get the power chewer box for those that can tear a toy up in 60 seconds flat!  Customizing your special box: you can choose from Toys, treats, and chews or treats and chews or only toys.  You know what your pup likes, so you decide!  Choose all natural, grain free, organic or sensitive for those with allergies.  The small box comes with 5 items($29) and the big box comes with 7($39) in monthly, bimonthly or quarterly intervals.
With the time you save from trying to shop all of the items yourself you can spend spoiling your furry baby instead.  Your dog will love getting custom goodies each month in their very own box!

#1 Custom Dog Subscription Box
Bringing you another GREAT subscription box custom tailored to your individual pup.  This Shaggy Swag box comes loaded up with custom goodies you pick for your dog.  You can even choose an outfit each month based on your taste.  Then you tell them your dog's name, breed, size, measurements etc. to ensure you get the right size.  This one can also be tailored for dogs with sensitivities or allergies.  The one month Shaggy Swag box is only 32.00 a month and you can add on various essentials or premium clothes for an additional fee.  Use code 10OFF at checkout to recieve 10 dollars off your order!
Choose from three different options to fully customize your box.  ShaggySwag box($28) features 2 soft/squeak toys, 2 all natural bags of treats, and 1 healthy chew.  The Shaggy Shredder box($38) for the toughies features 2 indestructible toys, 2 natural made in the USA treats, and  1 healthy chew.  Then the clothing box($32) Shaggy Style you get to choose an outfit, 1 soft toy, and 1 all natural bag of treats.
These boxes are a great value considering you get to customize every part of it.  These boxes value from $50 all the way up to $200 so you know you are getting value for your hard earned money.  The ShaggySwag box was also featured on BUZZ FEED, Fox News, and more!
If you haven't got your dog on a subscription goody box yet, now is the time!  Now more than ever there are so many great options when it comes to treating and spoiling our pets.  It will be a pleasant surprise for you and your dog each month if you decide to get on one.
It really will save you time and money.  Let me know what subscription for dogs is your favorite or if you are planning to try either one of these!  Maelee and I love hearing from you guys!